BRONCOS BUSINESS BOOST
Root Local, Support Local
The 2021 nomination window has closed. Thanks for your support!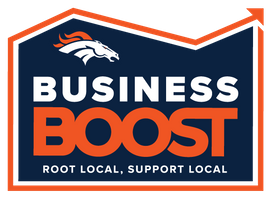 Thank you Broncos Country for participating in Broncos Business Boost. Continue to root local, support local.
The Broncos are proud to support & recognize businesses in our community alongside our proud partners:

Congratulations to our 2021 Grand Prize Winners
The Denver Broncos are committed to helping local businesses rebound & recover from the economic impact of COVID-19. Root local, support local.

Colorado small businesses dominate state's economy. Colorado is home to over 600,000 small businesses that employ over 1,000,000 people (DBJ).

Denver was ranked as the top metro area for women looking to start a business, ranking above 49 other cities across the country. The study, conducted by business.org, found that 29% of businesses in the Denver-metro area are female-owned and operated.

Denver's overall landscape merited an "A" grade for small business friendliness that puts the Mile High City in the top tier among the 44 cities studied (DBJ).

Congratulations to all of our 2020 Winners
root local, eat and drink local

Create your account today to explore the platform and compare plans and pricing.
ROOT LOCAL, SUPPORT LOCAL